Wine & Produce Pack
Pinot Noir & Riesling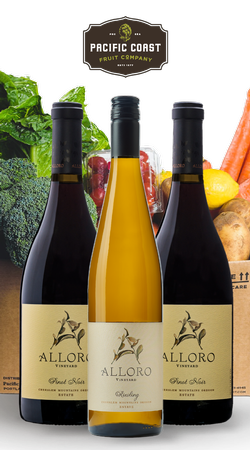 Wine | A three-bottle selection featuring Pinot Noir from two vintages plus a bottle of Riesling from Alloro Vineyard's single-vineyard Estate:
2017 Estate Pinot Noir (1 bottle)
2018 Estate Pinot Noir (1 bottle)
2019 Riesling (1 bottle)

Produce | Pacific Coast Fruit has partnered with small, family farms for over 40 years! Your produce box will include 15-20 pounds of fresh, seasonal fruits and vegetables.
$150 ($138 Club)
*Portland Metro area, Northern Willamette Valley, and Salem area customers only. Complimentary no-contact delivery Wednesday - Friday*
Available only for delivery or pick-up. Cannot be shipped.